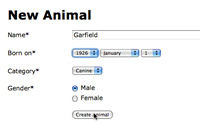 Formtastic is a concise way to generate form views. In this episode (part 1 of 2) I show how to generate both a simple form and a more complex one which is customized with options.
(10 minutes)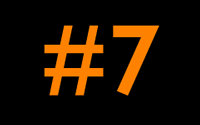 Security is important! Here I show seven different security flaws which are common to Rails applications ranging from mass assignment to CSRF protection.
(14 minutes)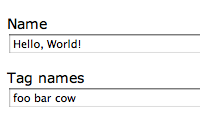 Use a virtual attribute to implement a simple tagging feature. In this episode I show you how to assign virtual attributes through a callback instead of a setter method.
(7 minutes)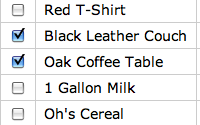 Use checkboxes to select multiple records and edit them all in one form as shown in this episode. With virtual attributes you can even edit values relatively!
(14 minutes)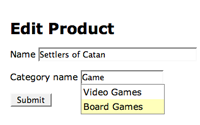 Usually a select menu is used for setting a belongs_to association, but in this episode I will show you how to use a text field with auto completion.
(13 minutes)
See how to dynamically change a select menu based on another select menu using Javascript. In this episode everything is kept client side which leads to a more responsive user interface.
(7 minutes)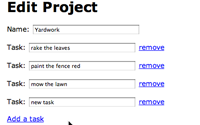 In this third and final episode on complex forms I will show you how to edit a project and multiple tasks all in one form. This includes removing and adding tasks dynamically as well. See the show notes for updated code.
(16 minutes)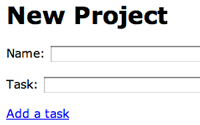 See how to use Javascript and RJS to add and remove form fields dynamically. This episode will build upon the previous episode allowing you to create any number of tasks in one form the same time a project is created.
(8 minutes)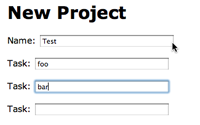 Complex forms often lead to complex controllers, but that doesn't have to be the case. In this episode see how you can create multiple models through a single form while keeping the controller clean.
(8 minutes)
Let's say you provide a select menu for setting which category a given product belongs to, but you also want the option of creating a new category by typing the name in a text field. See a great way to do that in this episode.
(5 minutes)