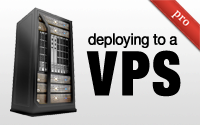 #335

Deploying to a VPS pro

Deploying a Rails application can be overwhelming because there are so many different options. Here I present a pattern for deploying a Rails app to a VPS using nginx, Unicorn, PostgreSQL, rbenv and more.
Download:
source codeProject Files in Zip (98 KB)
mp4Full Size H.264 Video (48.2 MB)
m4vSmaller H.264 Video (22.3 MB)
webmFull Size VP8 Video (21.7 MB)
ogvFull Size Theora Video (51.3 MB)

Browse Source Code
Resources
The Stack
Note: You may find it necessary to manually fix the Nginx init script as shown here.
Server Setup
terminal
apt-get -y update
apt-get -y install curl git-core python-software-properties

# nginx
add-apt-repository ppa:nginx/stable
apt-get -y update
apt-get -y install nginx
service nginx start

# PostgreSQL
add-apt-repository ppa:pitti/postgresql
apt-get -y update
apt-get -y install postgresql libpq-dev
sudo -u postgres psql
# \password
# create user blog with password 'secret';
# create database blog_production owner blog;
# \q

# Postfix
apt-get -y install telnet postfix

# Node.js
add-apt-repository ppa:chris-lea/node.js
apt-get -y update
apt-get -y install nodejs

# Add deployer user
adduser deployer --ingroup admin
su deployer
cd

# rbenv
curl -L https://raw.github.com/fesplugas/rbenv-installer/master/bin/rbenv-installer | bash
vim ~/.bashrc # add rbenv to the top
. ~/.bashrc
rbenv bootstrap-ubuntu-10-04
rbenv install 1.9.3-p125
rbenv global 1.9.3-p125
gem install bundler --no-ri --no-rdoc
rbenv rehash

# get to know github.com
ssh git@github.com

# after deploy:cold
sudo rm /etc/nginx/sites-enabled/default
sudo service nginx restart
sudo update-rc.d -f unicorn_blog defaults
Local Setup
terminal
rails new blog -d postgresql
rails g scaffold article name content:text

# setup Git
mate .gitignore
cp config/database.yml config/database.example.yml
git init
git add .
git commit -m "initial commit"
git remote add origin git@github.com:ryanb/blog.git
git push

# add Capistrano, Unicorn, and nginx config
bundle
capify .
chmod +x config/unicorn_init.sh
git add .
git commit -m "deployment configs"

# ssh setup
cat ~/.ssh/id_rsa.pub | ssh deployer@72.14.183.209 'cat >> ~/.ssh/authorized_keys'
ssh-add # -K on Mac OS X

# deployment
cap deploy:setup
# edit /home/deployer/apps/blog/shared/config/database.yml on server
cap deploy:cold
Gemfile
gem 'unicorn'
gem 'capistrano'
config/deploy.rb
require "bundler/capistrano"

server "72.14.183.209", :web, :app, :db, primary: true

set :application, "blog"
set :user, "deployer"
set :deploy_to, "/home/#{user}/apps/#{application}"
set :deploy_via, :remote_cache
set :use_sudo, false

set :scm, "git"
set :repository, "git@github.com:ryanb/#{application}.git"
set :branch, "master"

default_run_options[:pty] = true
ssh_options[:forward_agent] = true

after "deploy", "deploy:cleanup" # keep only the last 5 releases

namespace :deploy do
  %w[start stop restart].each do |command|
    desc "#{command} unicorn server"
    task command, roles: :app, except: {no_release: true} do
      run "/etc/init.d/unicorn_#{application} #{command}"
    end
  end

  task :setup_config, roles: :app do
    sudo "ln -nfs #{current_path}/config/nginx.conf /etc/nginx/sites-enabled/#{application}"
    sudo "ln -nfs #{current_path}/config/unicorn_init.sh /etc/init.d/unicorn_#{application}"
    run "mkdir -p #{shared_path}/config"
    put File.read("config/database.example.yml"), "#{shared_path}/config/database.yml"
    puts "Now edit the config files in #{shared_path}."
  end
  after "deploy:setup", "deploy:setup_config"

  task :symlink_config, roles: :app do
    run "ln -nfs #{shared_path}/config/database.yml #{release_path}/config/database.yml"
  end
  after "deploy:finalize_update", "deploy:symlink_config"

  desc "Make sure local git is in sync with remote."
  task :check_revision, roles: :web do
    unless `git rev-parse HEAD` == `git rev-parse origin/master`
      puts "WARNING: HEAD is not the same as origin/master"
      puts "Run `git push` to sync changes."
      exit
    end
  end
  before "deploy", "deploy:check_revision"
end
Other Files
Alternative Server Setup
terminal
# Apache (instead of nginx)
apt-get -y install apache2
a2enmod rewrite
# after deploy:
sudo a2dissite default
sudo a2ensite blog
sudo /etc/init.d/apache2 reload

# MySQL (instead of PostgreSQL)
apt-get -y install mysql-server mysql-client libmysqlclient-dev
mysql -u root -p
# create database blog_production;
# grant all on blog_production.* to blog@localhost identified by 'secret';
# exit

# Compile Ruby (instead of rbenv)
sudo apt-get -y install build-essential zlib1g-dev libssl-dev libreadline5-dev libyaml-dev
wget ftp://ftp.ruby-lang.org/pub/ruby/1.9/ruby-1.9.3-p125.tar.gz
tar -xvzf ruby-1.9.3-p125.tar.gz
cd ruby-1.9.3-p125/
./configure --prefix=/usr/local
make
sudo make install
sudo gem install bundler --no-ri --no-rdoc

# Phusion Passenger (instead of Unicorn)
sudo apt-get -y install libcurl4-openssl-dev apache2-prefork-dev libapr1-dev libaprutil1-dev
sudo gem install passenger --no-ri --no-rdoc
sudo passenger-install-apache2-module
sudo vim /etc/apache2/apache2.conf # modify as instructed by installer
Alternative Local Setup
config/deploy.rb
# ...
namespace :deploy do
  task :start do; end
  task :stop do; end
  task :restart, roles: :app, except: {no_release: true} do
    run "touch #{deploy_to}/current/tmp/restart.txt"
  end

  task :setup_config, roles: :app do
    sudo "ln -nfs #{current_path}/config/apache.conf /etc/apache2/sites-available/#{application}"
    run "mkdir -p #{shared_path}/config"
    put File.read("config/database.example.yml"), "#{shared_path}/config/database.yml"
    puts "Now edit the config files in #{shared_path}."
  end
  after "deploy:setup", "deploy:setup_config"
  # ...
end
config/apache.conf
<VirtualHost *:80>
  # ServerName example.com
  # ServerAlias *.example.com
  DocumentRoot /home/deployer/apps/blog/current/public
  <Directory "/home/deployer/apps/blog/current/public">
    Options FollowSymLinks
    AllowOverride None
    Order allow,deny
    Allow from all
  </Directory>
</VirtualHost>