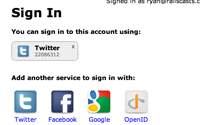 #235

OmniAuth Part 1

OmniAuth is an easy way to add many different authentication services to your app. In this episode we start integrating it with Devise.
Download:
source codeProject Files in Zip (133 KB)
mp4Full Size H.264 Video (25.2 MB)
m4vSmaller H.264 Video (14.6 MB)
webmFull Size VP8 Video (30 MB)
ogvFull Size Theora Video (32.4 MB)

Browse Source Code
There is a newer version of this episode, see the revised episode.
Resources
bash
bundle install
rails g nifty:scaffold authentication user_id:integer provider:string uid:string index create destroy
rake db:migrate
models/user.rb
has_many :authentications
config/routes.rb
match '/auth/:provider/callback' => 'authentications#create'
authentications_controller.rb
def index
  @authentications = current_user.authentications if current_user
end

def create
  auth = request.env["rack.auth"]
  current_user.authentications.find_or_create_by_provider_and_uid(auth['provider'], auth['uid'])
  flash[:notice] = "Authentication successful."
  redirect_to authentications_url
end

def destroy
  @authentication = current_user.authentications.find(params[:id])
  @authentication.destroy
  flash[:notice] = "Successfully destroyed authentication."
  redirect_to authentications_url
end
config/initializers/omniauth.rb
Rails.application.config.middleware.use OmniAuth::Builder do
  provider :twitter, 'CONSUMER_KEY', 'CONSUMER_SECRET'
end
authentications/index.html.erb
<% title "Sign In" %>

<% if @authentications %>
  <% unless @authentications.empty? %>
    <p><strong>You can sign in to this account using:</strong></p>
    <div class="authentications">
      <% for authentication in @authentications %>
        <div class="authentication">
          <%= image_tag "#{authentication.provider}_32.png", :size => "32x32" %>
          <div class="provider"><%= authentication.provider.titleize %></div>
          <div class="uid"><%= authentication.uid %></div>
          <%= link_to "X", authentication, :confirm => 'Are you sure you want to remove this authentication option?', :method => :delete, :class => "remove" %>
        </div>
      <% end %>
      <div class="clear"></div>
    </div>
  <% end %>
  <p><strong>Add another service to sign in with:</strong></p>
<% else %>
  <p><strong>Sign in through one of these services:</strong></p>
<% end %>

<a href="/auth/twitter" class="auth_provider">
  <%= image_tag "twitter_64.png", :size => "64x64", :alt => "Twitter" %>
  Twitter
</a>
<a href="/auth/facebook" class="auth_provider">
  <%= image_tag "facebook_64.png", :size => "64x64", :alt => "Facebook" %>
  Facebook
</a>
<a href="/auth/google_apps" class="auth_provider">
  <%= image_tag "google_64.png", :size => "64x64", :alt => "Google" %>
  Google
</a>
<a href="/auth/open_id" class="auth_provider">
  <%= image_tag "openid_64.png", :size => "64x64", :alt => "OpenID" %>
  OpenID
</a>
<div class="clear"></div>
application.css
.authentications {
  margin-bottom: 30px;
}

.authentication {
  width: 130px;
  float: left;
  background-color: #EEE;
  border: solid 1px #999;
  padding: 5px 10px;
  -moz-border-radius: 8px;
  -webkit-border-radius: 8px;
  position: relative;
  margin-right: 10px;
}

.authentication .remove {
  text-decoration: none;
  position: absolute;
  top: 3px;
  right: 3px;
  color: #333;
  padding: 2px 4px;
  font-size: 10px;
}

.authentication .remove:hover {
  color: #CCC;
  background-color: #777;
  -moz-border-radius: 6px;
  -webkit-border-radius: 6px;
}

.authentication img {
  float: left;
  margin-right: 10px;
}

.authentication .provider {
  font-weight: bold;
}

.authentication .uid {
  color: #666;
  font-size: 11px;
}

.auth_provider img {
  display: block;
}

.auth_provider {
  float: left;
  text-decoration: none;
  margin-right: 20px;
  text-align: center;
  margin-bottom: 10px;
}