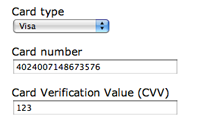 #145

Integrating Active Merchant

In this episode I show how to add Active Merchant's functionality to a Rails application to make a fully-functional checkout process.
Download:
source codeProject Files in Zip (108 KB)
mp4Full Size H.264 Video (30.1 MB)
m4vSmaller H.264 Video (19.9 MB)
webmFull Size VP8 Video (50 MB)
ogvFull Size Theora Video (39.9 MB)

Browse Source Code
Resources
Update: As Pawel pointed out in the comments, make sure to add the card numbers to the filter_parameter_logging call in your application.rb file so they are not logged.
bash
rake gems:install

script/generate nifty_scaffold order new cart_id:integer ip_address:string first_name:string last_name:string card_type:string card_expires_on:date

script/generate model order_transaction order_id:integer action:string amount:integer success:boolean authorization:string message:string params:text
controllers/application.rb
filter_parameter_logging :card_number, :card_verification
config/environment.rb
config.gem "activemerchant", :lib => "active_merchant", :version => "1.4.1"
config/environment/development.rb
config.after_initialize do
  ActiveMerchant::Billing::Base.mode = :test
  ::GATEWAY = ActiveMerchant::Billing::PaypalGateway.new(
    :login => "seller_1229899173_biz_api1.railscasts.com",
    :password => "FXWU58S7KXFC6HBE",
    :signature => "AGjv6SW.mTiKxtkm6L9DcSUCUgePAUDQ3L-kTdszkPG8mRfjaRZDYtSu"
  )
end
config/environment/test.rb
config.after_initialize do
  ActiveMerchant::Billing::Base.mode = :test
  ::GATEWAY = ActiveMerchant::Billing::BogusGateway.new
end
config/environment/production.rb
config.after_initialize do
  ActiveMerchant::Billing::Base.mode = :production
  ::GATEWAY = ActiveMerchant::Billing::PaypalGateway.new(
    :login => "seller_1229899173_biz_api1.railscasts.com",
    :password => "FXWU58S7KXFC6HBE",
    :signature => "AGjv6SW.mTiKxtkm6L9DcSUCUgePAUDQ3L-kTdszkPG8mRfjaRZDYtSu"
  )
end
orders_controller.rb
def create
  @order = current_cart.build_order(params[:order])
  @order.ip_address = request.remote_ip
  if @order.save
    if @order.purchase
      render :action => "success"
    else
      render :action => "failure"
    end
  else
    render :action => 'new'
  end
end
models/order.rb
class Order < ActiveRecord::Base
  belongs_to :cart
  has_many :transactions, :class_name => "OrderTransaction"
  
  attr_accessor :card_number, :card_verification
  
  validate_on_create :validate_card
  
  def purchase
    response = GATEWAY.purchase(price_in_cents, credit_card, purchase_options)
    transactions.create!(:action => "purchase", :amount => price_in_cents, :response => response)
    cart.update_attribute(:purchased_at, Time.now) if response.success?
    response.success?
  end
  
  def price_in_cents
    (cart.total_price*100).round
  end

  private
  
  def purchase_options
    {
      :ip => ip_address,
      :billing_address => {
        :name     => "Ryan Bates",
        :address1 => "123 Main St.",
        :city     => "New York",
        :state    => "NY",
        :country  => "US",
        :zip      => "10001"
      }
    }
  end
  
  def validate_card
    unless credit_card.valid?
      credit_card.errors.full_messages.each do |message|
        errors.add_to_base message
      end
    end
  end
  
  def credit_card
    @credit_card ||= ActiveMerchant::Billing::CreditCard.new(
      :type               => card_type,
      :number             => card_number,
      :verification_value => card_verification,
      :month              => card_expires_on.month,
      :year               => card_expires_on.year,
      :first_name         => first_name,
      :last_name          => last_name
    )
  end
end
models/order_transaction.rb
class OrderTransaction < ActiveRecord::Base
  belongs_to :order
  serialize :params
  
  def response=(response)
    self.success       = response.success?
    self.authorization = response.authorization
    self.message       = response.message
    self.params        = response.params
  rescue ActiveMerchant::ActiveMerchantError => e
    self.success       = false
    self.authorization = nil
    self.message       = e.message
    self.params        = {}
  end
end
views/orders/new.html.erb
<% form_for @order do |f| %>
  <%= f.error_messages %>
  <p>
    <%= f.label :first_name %><br />
    <%= f.text_field :first_name %>
  </p>
  <p>
    <%= f.label :last_name %><br />
    <%= f.text_field :last_name %>
  </p>
  <p>
    <%= f.label :card_type %><br />
    <%= f.select :card_type, [["Visa", "visa"], ["MasterCard", "master"], ["Discover", "discover"], ["American Express", "american_express"]] %>
  </p>
  <p>
    <%= f.label :card_number %><br />
    <%= f.text_field :card_number %>
  </p>
  <p>
    <%= f.label :card_verification, "Card Verification Value (CVV)" %><br />
    <%= f.text_field :card_verification %>
  </p>
  <p>
    <%= f.label :card_expires_on %><br />
    <%= f.date_select :card_expires_on, :discard_day => true, :start_year => Date.today.year, :end_year => (Date.today.year+10), :add_month_numbers => true %>
  </p>
  <p><%= f.submit "Submit" %></p>
<% end %>
views/orders/success.html.erb
views/orders/failure.html.erb