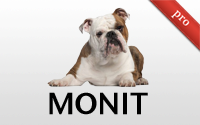 #375

Monit pro

Monit can help ensure your Rails app stays up and running smoothly. Here I show how to set it up, receive alerts, and keep tabs on it through a web interface.
Download:
source codeProject Files in Zip (79 KB)
mp4Full Size H.264 Video (43.2 MB)
m4vSmaller H.264 Video (20.4 MB)
webmFull Size VP8 Video (23.5 MB)
ogvFull Size Theora Video (50.4 MB)

Browse Source Code
Resources
terminal
# on server:
sudo apt-get update
sudo apt-get install monit
sudo vim /etc/monit/monitrc
sudo killall nginx
sudo tail /var/log/monit.log

# on local:
cap monit:setup
cap unicorn:setup unicorn:restart monit:setup
config/deploy.rb
load "config/recipes/monit"
config/recipes/monit.rb
namespace :monit do
  desc "Install Monit"
  task :install do
    run "#{sudo} apt-get -y install monit"
  end
  after "deploy:install", "monit:install"

  desc "Setup all Monit configuration"
  task :setup do
    monit_config "monitrc", "/etc/monit/monitrc"
    nginx
    postgresql
    unicorn
    syntax
    reload
  end
  after "deploy:setup", "monit:setup"
  
  task(:nginx, roles: :web) { monit_config "nginx" }
  task(:postgresql, roles: :db) { monit_config "postgresql" }
  task(:unicorn, roles: :app) { monit_config "unicorn" }

  %w[start stop restart syntax reload].each do |command|
    desc "Run Monit #{command} script"
    task command do
      run "#{sudo} service monit #{command}"
    end
  end
end

def monit_config(name, destination = nil)
  destination ||= "/etc/monit/conf.d/#{name}.conf"
  template "monit/#{name}.erb", "/tmp/monit_#{name}"
  run "#{sudo} mv /tmp/monit_#{name} #{destination}"
  run "#{sudo} chown root #{destination}"
  run "#{sudo} chmod 600 #{destination}"
end
config/recipes/templates/monit/monitrc.erb
set daemon 30

set logfile /var/log/monit.log
set idfile /var/lib/monit/id
set statefile /var/lib/monit/state

set eventqueue
    basedir /var/lib/monit/events
    slots 100

# set mailserver smtp.gmail.com port 587
#     username "foo@example.com" password "secret"
#     using tlsv1
#     with timeout 30 seconds

set alert foo@example.com

set httpd port 2812
    allow admin:"secret"

check system blog_server
  if loadavg(5min) > 2 for 2 cycles then alert
  if memory > 75% for 2 cycles then alert
  if cpu(user) > 75% for 2 cycles then alert

include /etc/monit/conf.d/*
config/recipes/templates/monit/nginx.erb
check process nginx with pidfile /var/run/nginx.pid
  start program = "/etc/init.d/nginx start"
  stop program = "/etc/init.d/nginx stop"
  if children > 250 then restart
  if 5 restarts within 5 cycles then timeout
config/recipes/templates/monit/postgresql.erb
check process postgresql with pidfile <%= postgresql_pid %>
  start program = "/etc/init.d/postgresql start"
  stop program = "/etc/init.d/postgresql stop"
  if failed host localhost port 5432 protocol pgsql then restart
  if 5 restarts within 5 cycles then timeout
config/recipes/templates/monit/unicorn.erb
check process <%= application %>_unicorn with pidfile <%= unicorn_pid %>
  start program = "/etc/init.d/unicorn_<%= application %> start"
  stop program = "/etc/init.d/unicorn_<%= application %> stop"

<% unicorn_workers.times do |n| %>
  <% pid = unicorn_pid.sub(".pid", ".#{n}.pid") %>
  check process <%= application %>_unicorn_worker_<%= n %> with pidfile <%= pid %>
    start program = "/bin/true"
    stop program = "/usr/bin/test -s <%= pid %> && /bin/kill -QUIT `cat <%= pid %>`"
    if mem > 200.0 MB for 1 cycles then restart
    if cpu > 50% for 3 cycles then restart
    if 5 restarts within 5 cycles then timeout
    alert foo@example.com only on { pid }
    if changed pid 2 times within 60 cycles then alert
<% end %>
config/recipes/templates/unicorn.rb.erb
after_fork do |server, worker|
  # Start up the database connection again in the worker
  if defined?(ActiveRecord::Base)
    ActiveRecord::Base.establish_connection
  end
  child_pid = server.config[:pid].sub(".pid", ".#{worker.nr}.pid")
  system("echo #{Process.pid} > #{child_pid}")
end
config/recipes/postgresql.rb
set_default(:postgresql_pid) { "/var/run/postgresql/9.1-main.pid" }
config/recipes/unicorn.rb
set_default(:unicorn_workers, 2)