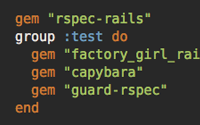 #275

How I Test

Here I show how I would add tests to the password reset feature created in the previous episode. I use RSpec, Capybara, Factory Girl, and Guard to make request, model, and mailer specs.
Download:
source codeProject Files in Zip (92.2 KB)
mp4Full Size H.264 Video (26.4 MB)
m4vSmaller H.264 Video (16.1 MB)
webmFull Size VP8 Video (18.1 MB)
ogvFull Size Theora Video (37.8 MB)

Browse Source Code
Resources
Note: I only included the test code below, if you want the implementation code see the previous episode or download the full source code.
bash
bundle
rails g rspec:install
mkdir spec/support spec/models spec/routing
guard init rspec
gem install rb-fsevent
rails g integration_test password_reset
rails g controller password_resets new --no-test-framework
rails g mailer user_mailer password_reset
rails g migration add_password_reset_to_users password_reset_token:string password_reset_sent_at:datetime
rake db:migrate
Gemfile
gem "rspec-rails", :group => [:test, :development]
group :test do
  gem "factory_girl_rails"
  gem "capybara"
  gem "guard-rspec"
end
spec_helper.rb
require 'capybara/rspec'

RSpec.configure do |config|
  # ...
  config.include(MailerMacros)
  config.before(:each) { reset_email }
end
spec/support/mailer_macros.rb
module MailerMacros
  def last_email
    ActionMailer::Base.deliveries.last
  end
  
  def reset_email
    ActionMailer::Base.deliveries = []
  end
end
config/environments/test.rb
config.action_mailer.default_url_options = { :host => "www.example.com" }
spec/requests/password_resets_spec.rb
describe "PasswordResets" do
  it "emails user when requesting password reset" do
    user = Factory(:user)
    visit login_path
    click_link "password"
    fill_in "Email", :with => user.email
    click_button "Reset Password"
    current_path.should eq(root_path)
    page.should have_content("Email sent")
    last_email.to.should include(user.email)
  end

  it "does not email invalid user when requesting password reset" do
    visit login_path
    click_link "password"
    fill_in "Email", :with => "nobody@example.com"
    click_button "Reset Password"
    current_path.should eq(root_path)
    page.should have_content("Email sent")
    last_email.should be_nil
  end

  # I added the following specs after recording the episode. It literally
  # took about 10 minutes to add the tests and the implementation because
  # it was easy to follow the testing pattern already established.
  it "updates the user password when confirmation matches" do
    user = Factory(:user, :password_reset_token => "something", :password_reset_sent_at => 1.hour.ago)
    visit edit_password_reset_path(user.password_reset_token)
    fill_in "Password", :with => "foobar"
    click_button "Update Password"
    page.should have_content("Password doesn't match confirmation")
    fill_in "Password", :with => "foobar"
    fill_in "Password confirmation", :with => "foobar"
    click_button "Update Password"
    page.should have_content("Password has been reset")
  end

  it "reports when password token has expired" do
    user = Factory(:user, :password_reset_token => "something", :password_reset_sent_at => 5.hour.ago)
    visit edit_password_reset_path(user.password_reset_token)
    fill_in "Password", :with => "foobar"
    fill_in "Password confirmation", :with => "foobar"
    click_button "Update Password"
    page.should have_content("Password reset has expired")
  end

  it "raises record not found when password token is invalid" do
    lambda {
      visit edit_password_reset_path("invalid")
    }.should raise_exception(ActiveRecord::RecordNotFound)
  end
end
spec/models/user_spec.rb
describe User do
  describe "#send_password_reset" do
    let(:user) { Factory(:user) }

    it "generates a unique password_reset_token each time" do
      user.send_password_reset
      last_token = user.password_reset_token
      user.send_password_reset
      user.password_reset_token.should_not eq(last_token)
    end

    it "saves the time the password reset was sent" do
      user.send_password_reset
      user.reload.password_reset_sent_at.should be_present
    end

    it "delivers email to user" do
      user.send_password_reset
      last_email.to.should include(user.email)
    end
  end
end
spec/mailers/user_mailer_spec.rb
describe UserMailer do
  describe "password_reset" do
    let(:user) { Factory(:user, :password_reset_token => "anything") }
    let(:mail) { UserMailer.password_reset(user) }

    it "send user password reset url" do
      mail.subject.should eq("Password Reset")
      mail.to.should eq([user.email])
      mail.from.should eq(["from@example.com"])
      mail.body.encoded.should match(edit_password_reset_path(user.password_reset_token))
    end
  end
end