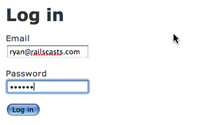 #250

Authentication from Scratch

Password authentication is not too complicated to make from scratch, it will also help to get a better understanding of how it works.
Download:
source codeProject Files in Zip (103 KB)
mp4Full Size H.264 Video (23.6 MB)
m4vSmaller H.264 Video (16.4 MB)
webmFull Size VP8 Video (42.9 MB)
ogvFull Size Theora Video (33.4 MB)

Browse Source Code
There is a newer version of this episode, see the revised episode.
Resources
bash
rails g controller users new
rails g model user email:string password_hash:string password_salt:string
rake db:migrate
rails dbconsole
rails g controller sessions new
Gemfile
gem "bcrypt-ruby", :require => "bcrypt"
models/user.rb
class User < ActiveRecord::Base
  attr_accessible :email, :password, :password_confirmation
  
  attr_accessor :password
  before_save :encrypt_password
  
  validates_confirmation_of :password
  validates_presence_of :password, :on => :create
  validates_presence_of :email
  validates_uniqueness_of :email
  
  def self.authenticate(email, password)
    user = find_by_email(email)
    if user && user.password_hash == BCrypt::Engine.hash_secret(password, user.password_salt)
      user
    else
      nil
    end
  end
  
  def encrypt_password
    if password.present?
      self.password_salt = BCrypt::Engine.generate_salt
      self.password_hash = BCrypt::Engine.hash_secret(password, password_salt)
    end
  end
end
users_controller.rb
def new
  @user = User.new
end

def create
  @user = User.new(params[:user])
  if @user.save
    redirect_to root_url, :notice => "Signed up!"
  else
    render "new"
  end
end
sessions_controller.rb
def new
end

def create
  user = User.authenticate(params[:email], params[:password])
  if user
    session[:user_id] = user.id
    redirect_to root_url, :notice => "Logged in!"
  else
    flash.now.alert = "Invalid email or password"
    render "new"
  end
end

def destroy
  session[:user_id] = nil
  redirect_to root_url, :notice => "Logged out!"
end
application_controller.rb
helper_method :current_user

private

def current_user
  @current_user ||= User.find(session[:user_id]) if session[:user_id]
end
routes.rb
get "log_out" => "sessions#destroy", :as => "log_out"
get "log_in" => "sessions#new", :as => "log_in"
get "sign_up" => "users#new", :as => "sign_up"
root :to => "users#new"
resources :users
resources :sessions
users/new.html.erb
<h1>Sign Up</h1>

<%= form_for @user do |f| %>
  <% if @user.errors.any? %>
    <div class="error_messages">
      <h2>Form is invalid</h2>
      <ul>
        <% for message in @user.errors.full_messages %>
          <li><%= message %></li>
        <% end %>
      </ul>
    </div>
  <% end %>
  <p>
    <%= f.label :email %><br />
    <%= f.text_field :email %>
  </p>
  <p>
    <%= f.label :password %><br />
    <%= f.password_field :password %>
  </p>
  <p>
    <%= f.label :password_confirmation %><br />
    <%= f.password_field :password_confirmation %>
  </p>
  <p class="button"><%= f.submit %></p>
<% end %>
sessions/new.html.erb
<h1>Log in</h1>

<%= form_tag sessions_path do %>
  <p>
    <%= label_tag :email %><br />
    <%= text_field_tag :email, params[:email] %>
  </p>
  <p>
    <%= label_tag :password %><br />
    <%= password_field_tag :password %>
  </p>
  <p class="button"><%= submit_tag "Log in" %></p>
<% end %>
layouts/application.html.erb
<div id="user_nav">
  <% if current_user %>
    Logged in as <%= current_user.email %>.
    <%= link_to "Log out", log_out_path %>
  <% else %>
    <%= link_to "Sign up", sign_up_path %> or
    <%= link_to "log in", log_in_path %>
  <% end %>
</div>

<% flash.each do |name, msg| %>
  <%= content_tag :div, msg, :id => "flash_#{name}" %>
<% end %>