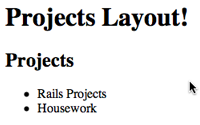 #7

All About Layouts

Mar 19, 2007 | 6 minutes |

Views

Everything you wanted to know about layouts: global layouts, controller layouts, shared layouts, dynamic layouts and action layouts. Yes, there really are that many ways to specify a layout.
Questo episodio è tutto sui layout. I layout sono file di viste che definiscono il codice che fa da contorno ad un template. E' la cosiddetta cornice applicativa. Possono essere condivisi fra le varie action e i vari controller.
Layout di applicazione
Il template qui sotto elenca tutti i progetti.
ruby
<h2>Projects</h2>
<ul>
<% for project in @projects %>
    <li><%= project.name %></li>
<% end %>
</ul>
Questo codice genera una pagina web piuttosto semplice: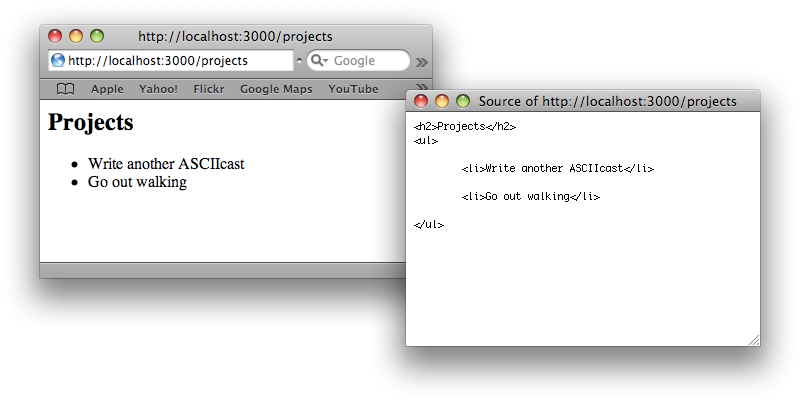 Se volessimo, aggiungere, per dire, un'intestazione, un logo e una barra di navigazione al sito ed avere tutti questi elementi visibili in ogni pagina, allora potremmo sfruttare un layout. I file di layout sono posizionati nella cartella /app/view/layouts di un'applicazione Rails. Per definirne uno, basta creare un nuovo file denominato application.rhtml[1] nella cartella dei layout. Ciò renderà disponibile un layout globale per tutti i controller e tutte le action. Il file di layout applicativo sarà qualcosa del genere:
ruby
<h1>Application Layout!</h1>
<%= yield %>
La riga significativa del codice sopra è la seconda. La parola chiave yield indica al layout dove piazzare il contenuto del template che userà il layout. Ora, se riguardiamo la pagina di prima, possiamo vedere che il layout è stato applicato.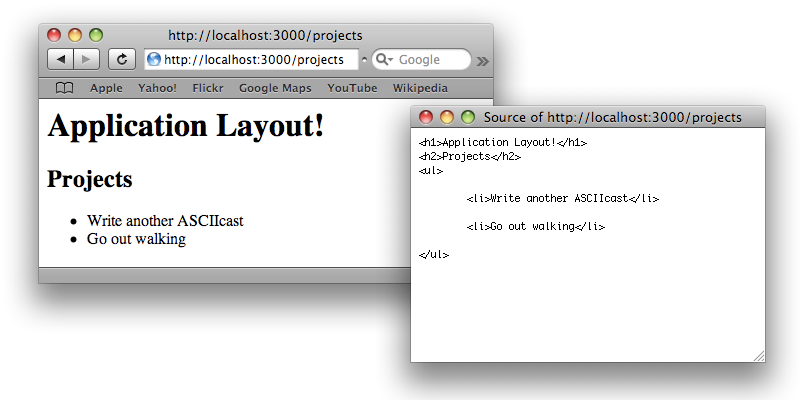 Essendo un layout globale, sarà applicato ad ogni action di ogni controller dell'applicazione. Il più delle volte questo sarà sufficiente, ma che cosa succederebbe se avessimo bisogno di layout differenti per parti distinte della nostra applicazione?
Layout speficici del controller
Un layout può essere reso specifico di un solo controller, semplicemente nominandolo, anzichè application.rhtml, con lo stesso nome del controller di riferimento (più, ovviamente, l'estensione .rhtml). Così, per creare un layout che sarà usato da tutte le action del controller dei Projects, creeremo un file nella cartella layouts, denominato projects.rhtml[2]. Ciò per Rails significa che il layout andrà applicato solo per le action del controller dei progetti.
ruby
<h1>Project Layout!</h1>
<%= yield %>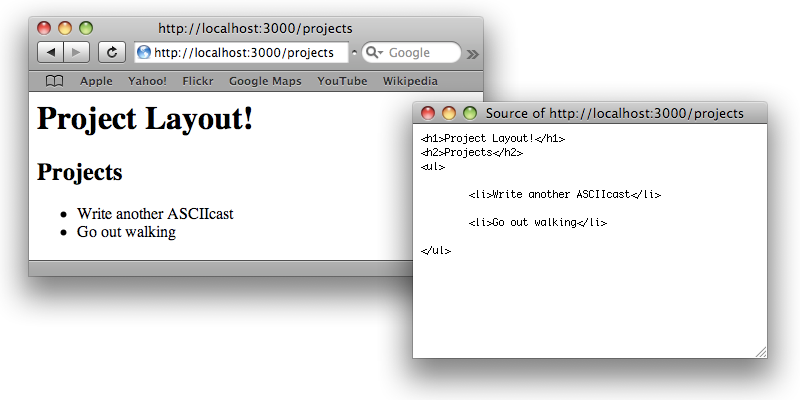 E se ora volessimo condividere un layout fra diversi controller, non solamente uno, perchè ad esempio vogliamo un layout per amministratori dell'applicazione? Rails ci permette di utilizzare il comando layout per definire il nome del layout che deve essere utilizzato con un controller.
ruby
class ProjectsController < ApplicationController
  layout "admin" 

  def index
    @projects = Project.find(:all)
  end
end
Un layout indicato con il comando layout ha la precedenza rispetto a qualsiasi layout specifico del controller o applicativo.
Layout dinamici
I layout possono anche essere usati dinamicamente. Per esempio, vorremmo poter applicare il layout admin solo quando un utente è autenticato nella nostra applicazione. Ciò può essere fatto passando un simbolo, piuttosto che un valore costante, al comando layout e creando un metodo, con lo stesso nome del simbolo, che calcola quale layout deve essere utilizzato.
ruby
class ProjectsController < ApplicationController
  layout :user_layout

  def index
    @projects = Project.find(:all)
  end

  protected
  def user_layout
    if current_user.admin?
      "admin" 
    else
      "application" 
    end
  end
end
Possiamo perfino restingere il layout ad una singola action di un controller con il comando render.
ruby
def index
  @projects = Project.find(:all)
  render :layout => 'projects'
end
Il layout imposto mediante il comando render avrà la precedenza su ogni altro layout specifico del controller.
Infine, per mostrare una action priva di layout, possiamo usare:
Note
A partire da Rails 2 il file dovrebbe chiamarsi application.html.erb
Di nuovo, da Rails 2 in avanti l'estensione dovrebbe essere .html.erb piuttosto che .rhtml.